TFE Products
Here you will find links to products that we personally recommend, based off our own research and experience, specifically geared towards work-at-home mothers. We hope you enjoy!
ELMER's Washable Disappearing Purple School Glue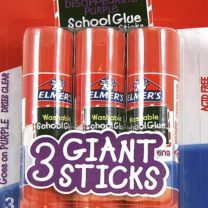 This glue is simply the best for your kids. Aside for being of amazing price and quality, the glue goes on purple so your child knows how much and where the glue goes, and then it disappears so that no purple is leftover on the page. It's simply the best glue!
Click here to get the Best Kids Glue Sticks for your kids' arts & crafts needs!
Scotch-Brite Heavy Duty Scrub Sponge
This sponge is simply the best, and it is hard to find everywhere, especially in Israel.  It doesn't need any further advertising. Get yours today.
Get your set of 21 sponges here!
Check back here regularly for new recommended products!